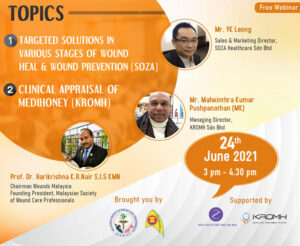 Date

Jun 24 2021

Expired!
About the Webinar
This webinar will address essentially how MEDIHONEY's properties enhance and meet the science behind advanced wound care, i.e. moist wound healing, TIME etc and how the various formulations help in promoting good wound healing including debridement, granulation fighting infection among others.
Speakers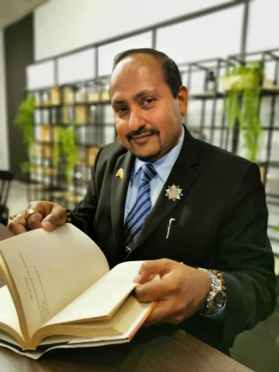 Prof. Dr. Harikrishna K.R.Nair S.I.S Kmn
MD, FRCPI FCWCS OSH (NIOSH), OHD (DOH), CMIA (MAL) CHM (USA) ESWT (Austria, Germany) FMSWCP, PG in Wound Healing and Tissue Repair (Cardiff, UK) ICW Chairman Wounds Malaysia Head and Consultant Wound Care Unit, Dept. of Internal Medicine, KLH Founding President, Malaysian Society of Wound Care Professionals,
Professor Dr. Harikrishna K.R.Nair, the founding President of the Malaysian Society of Wound Care Professionals (MSWCP) and the Head of the Wound Care Unit, Department of Internal Medicine, Hospital Kuala Lumpur was awarded the gold medal for his contribution in education by the Journal of Wound Care (JWC) World Union of Wound Healing Societies (WUWHS) in an live international award ceremony from the United Kingdom. Professor Hari has been instrumental in setting up the post basic in wound management under the Ministry of Health Malaysia and the Certificate in Clinical Wound Care under the Asian Wound Care Association.
He has also conducted many courses, workshops and conferences across Asia such as in the ASEAN countries and Maldives. He has also edited and authored 19 books and numerous journals and presentations. This award is a great recognition of his work in the field of education especially in the management of chronic wounds such as Diabetic foot ulcers, venous ulcers, pressure injuries and other chronic complex wounds. He is the first Malaysian to receive this prestigious international award. Congratulations to Professor Harikrishna for putting Malaysia on the global map.
Mr YK Leong
Sales & Marketing Director, SOZA Healthcare Sdn Bhd
Mr YK Leong has over twenty plus years of experience in the multinational pharma industry involved in Cardiovascular, Lipid, Diabetes, Gastrointestinal, Neurology, Biotech therapeutic solutions. Pharmaceutical business sales & marketing head for 5 years in Singapore & Malaysia. Internal trainer for professional representatives for 8 years plus in cardiovascular and lipid field.Current advance wound care product distribution to Hong Kong, Thailand, Brunei and Singapore.Asia region wound care business since 2013.
---
Mr Maheinthra Kumar (MK)
Managing Director, KROMH Sdn Bhd
Mr Maheinthra Kumar Pushpanathan started his working career as a Paramedic with the MOH in Malaysia and served in a variety of functions from casualty medicine to Drug Rehabilitation, Psychiatry and control of communicable disease. After 8 years in government service Maheinthra ventured into the pharmaceutical industry starting as a medical representative with Leo Pharmaceuticals and rose to that of Marketing Director with Sanofi Aventis (M).
From an academic perspective beyond Paramedical Qualifications, Maheinthra studied Law with University of London, obtained a Post Graduate Diploma in Marketing with Chartered Institute of Marketing UK, a Masters in Business Administration from University of Keele, UK and a Trainers and Assessors qualification from BRACE Australia.
Effective March 1st 2013 Maheinthra took on the position of Managing Director at KROMH Sdn Bhd whereby KROMH is involved in the sales, marketing and distribution of medical devices in the area of wound care within Malaysia and selected regional markets.