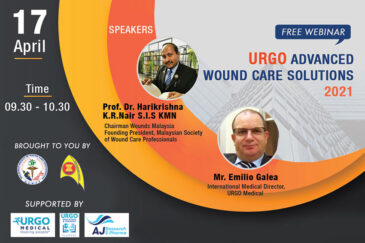 Date

Apr 17 2021

Expired!
About the Webinar
This webinar is to introduce Urgo's advance wound care solutions that have proven their efficacy through clinical studies to address the care of acute and chronic wounds.
Speakers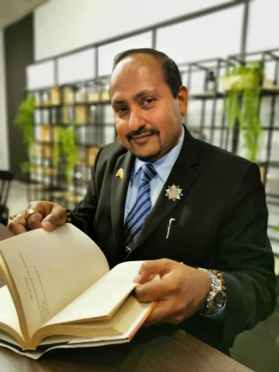 Prof. Dr. Harikrishna K.R.Nair S.I.S Kmn
MD, FRCPI FCWCS OSH (NIOSH), OHD (DOH), CMIA (MAL) CHM (USA) ESWT (Austria, Germany) FMSWCP, PG in Wound Healing and Tissue Repair (Cardiff, UK) ICW Chairman Wounds Malaysia Head and Consultant Wound Care Unit, Dept. of Internal Medicine, KLH Founding President, Malaysian Society of Wound Care Professionals,
Professor Dr. Harikrishna K.R.Nair, the founding President of the Malaysian Society of Wound Care Professionals (MSWCP) and the Head of the Wound Care Unit, Department of Internal Medicine, Hospital Kuala Lumpur was awarded the gold medal for his contribution in education by the Journal of Wound Care (JWC) World Union of Wound Healing Societies (WUWHS) in an live international award ceremony from the United Kingdom. Professor Hari has been instrumental in setting up the post basic in wound management under the Ministry of Health Malaysia and the Certificate in Clinical Wound Care under the Asian Wound Care Association.
He has also conducted many courses, workshops and conferences across Asia such as in the ASEAN countries and Maldives. He has also edited and authored 19 books and numerous journals and presentations. This award is a great recognition of his work in the field of education especially in the management of chronic wounds such as Diabetic foot ulcers, venous ulcers, pressure injuries and other chronic complex wounds. He is the first Malaysian to receive this prestigious international award. Congratulations to Professor Harikrishna for putting Malaysia on the global map.
Missed out on our Webinar "Urgo Medical Advanced Wound Care Solutions", not to worry catch the whole session over here.
For more information on this products, Kindly Contact
Dr Puva
AJ Research Pharma
Speakers
Ms Emilio Galea
nternational Medical Director, Urgo Medical
Emilio Galea started his career in healthcare in 1985 in Malta where he held different positions, from direct patient care, clinical instructor and examiner with the Institute of Healthcare (Malta) as well as managerial positions. He came to the Middle East in 2007 where he was employed as a Clinical Resource Nurse at Mafraq Hospital (Abu Dhabi) and moved up to be appointed as the Assistant Director of Nursing leading a very successful and innovative team of clinical educators. His role however also included the function of wound management advisor.
Emilio is very active in conferences both locally and internationally and was also awarded with the Speaker of the Year Award by the Health Authority of Abu Dhabi. He contributes regularly with articles in magazines and wound care journals and also published the 'Wound Care Product Catalogue' that provided guidelines to clinicians regarding the most commonly used advanced wound care products in SEHA facilities. Emilio is currently the International Medical Director for URGO Medical responsible for Australasia and the Middle East, providing education regarding tissue viability and wound management solutions in the region. He holds an MSc Skin Integrity Skills & Treatment from the University of Hertfordshire (UK) and his personal and professional objective is to facilitate, through education, evidence based wound management practice.