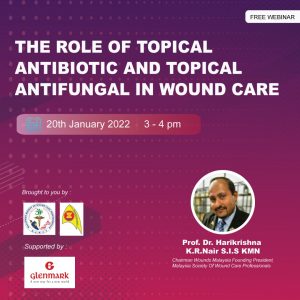 Date

Apr 17 2021

Expired!
About the Webinar
The Role of Topical Antibiotic and Topical Antifungal in Wound Care
Speakers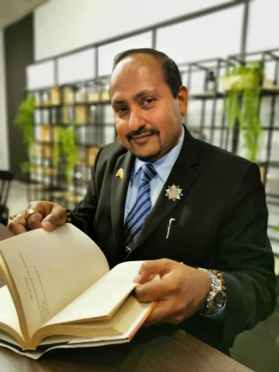 Prof. Dr. Harikrishna K.R.Nair S.I.S Kmn
MD, FRCPI FCWCS OSH (NIOSH), OHD (DOH), CMIA (MAL) CHM (USA) ESWT (Austria, Germany) FMSWCP,
PG in Wound Healing and Tissue Repair (Cardiff, UK) ICW
Chairman Wounds Malaysia
Head and Consultant Wound Care Unit, Dept. of Internal Medicine, KLH
Founding President, Malaysian Society of Wound Care Professionals,
Professor Dr. Harikrishna K.R.Nair, the founding President of the Malaysian Society of Wound Care Professionals (MSWCP) and the Head of the Wound Care Unit, Department of Internal Medicine, Hospital Kuala Lumpur was awarded the gold medal for his contribution in education by the Journal of Wound Care (JWC) World Union of Wound Healing Societies (WUWHS) in an live international award ceremony from the United Kingdom. Professor Hari has been instrumental in setting up the post basic in wound management under the Ministry of Health Malaysia and the Certificate in Clinical Wound Care under the Asian Wound Care Association
He has also conducted many courses, workshops and conferences across Asia such as in the ASEAN countries and Maldives. He has also edited and authored 19 books and numerous journals and presentations. This award is a great recognition of his work in the field of education especially in the management of chronic wounds such as Diabetic foot ulcers, venous ulcers, pressure injuries and other chronic complex wounds. He is the first Malaysian to receive this prestigious international award. Congratulations to Professor Harikrishna for putting Malaysia on the global map.
---